A fun little GIF-filled guide to what I've learned thus far. Let's go!
1.
Pay attention to the models
. When it comes to shopping online, if it doesn't look good on the
model
, chances are it's one of those odd pieces that will most likely be marked down to oblivion come sale time. Overly posed models and/or pieces that necessitate an extra layer or two are usually telltale signs of an awkward fit in person.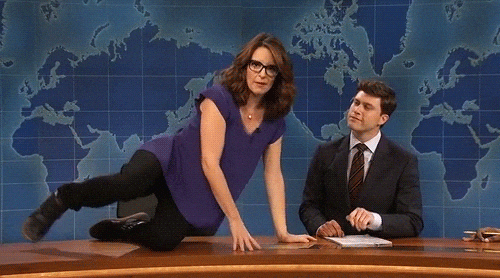 2.
It MUST be comfortable
. Nothing is worse than walking out the door in something that just doesn't
fit
. No matter how "trendy" it may be, it will literally ruin your mood, and no amount of tugging or tucking or adjusting will make it any better.
3.
..if it's not, TAILOR IT
. Never underestimate the power of tailoring.
Tom Ford even tailors his Fruit of the Loom t-shirts
. No matter the cost of the item itself, a few extra bucks spent at the tailor for a perfect fit is priceless.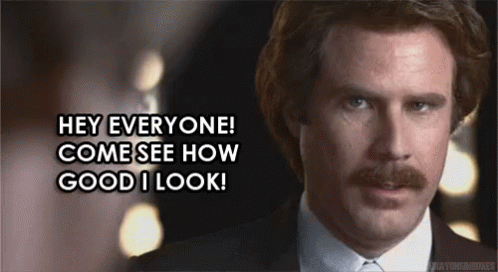 4.
Invest in a good strapless bra
. Because exposed straps (or clear straps - eek!) are super unnecessary.
5.
Mother knows best
. If the woman who literally created you thinks that you look bad in it, chances are you look bad in it. I have a horrible semi-mushroom haircut circa 4th grade to prove the truth of this advice. Same goes for sisters and best friends. Trust them - you'll look back and thank them later.
6.
If it fits, buy it in every color
. It's rare you find something that's oh-so-perfect. If you're lucky enough to do so, add every single variation of said thing to your cart immediately.
7.
Platforms rule
.
Pumps
are beautiful works of art.
Platform pumps
will not leave your feet tortured and crying out in pain at the end of a long day.
8.
..wedges too, for that matter
. Preferably ones that don't narrow towards the heel. Just make sure they don't have an insane arch, or back to pain city you go.
9.
Bike shorts
. I've definitely been made fun of for this one, but a tiny pair of
bike shorts
under a dress or skirt makes a
huge
difference. I've borne witness to many unfortunate, wind-induced Marilyn Monroe moments/clumsy car exits, so I swear by this one.
10.
Size is just a number
. In a single shopping trip, I fit perfectly in two different dresses from two different designers - one a size 00, and one a size 8. Just because the label says one thing does not mean it won't fit. Try it on.
11.
Beware of curved hems and cap sleeves
. Because tops with curved hems tend to create an otherwise non-existent pregnancy belly, and cap sleeves, unless they hit at
the
perfect spot..
12.
..and "final sale" items
. Whoever said sales are judgment-clouders was spot on. Approach them with caution.
13.
Speaking of sales, ShopStyle is a lifesaver
. If you haven't experienced a
ShopStyle sale alert
, you're missing out.
14.
There are no rules
. White after labor day,
leggings as pants
- whatever "rules" you've been taught, forget them. Wear what works for
you
, period.
15.
Lighting and angles are EVERYTHING
. If you've ever accidentally turned the front-facing camera on on your iPhone, you know what I mean. Never get discouraged by a bad picture - as "America's Next Top Model" as it may sound, learn to work your angles.
16.
..makeup helps, too
. Master one go-to makeup look, and change it up a bit when you want (then find out how to make it last,
here
!).
17.
Your eyebrows are your best friends
. Seriously, face-changing. Make them a priority in your beauty routine, and be careful to never over-pluck.
18.
Uggs are not the enemy
. They are
so
easy to hate on, but
when winter rears its ugly head
, you will
so
want to laugh at girls teetering on heels in the snow as you stomp on by in your cozy boots (extra bonus points for a
waterproof pair
).
19.
It's not all about labels
. There's not a woman in the world whose heart doesn't skip a little beat upon entering the doors at
Bergdorfs
, but never get blinded by labels.
Prabal Gurung said it best
: "A modern woman is not necessarily..someone who just buys expensive stuff. A modern woman is someone who buys intelligently."
20.
..but sometimes, it kind of is
. As my grandma would always say, "it pays to buy good." Don't be afraid to splurge on classic investment pieces that will last you a lifetime.
Any tips you'd add?! Let us know below!
Pin It Now!